Sinquefield Invention Campus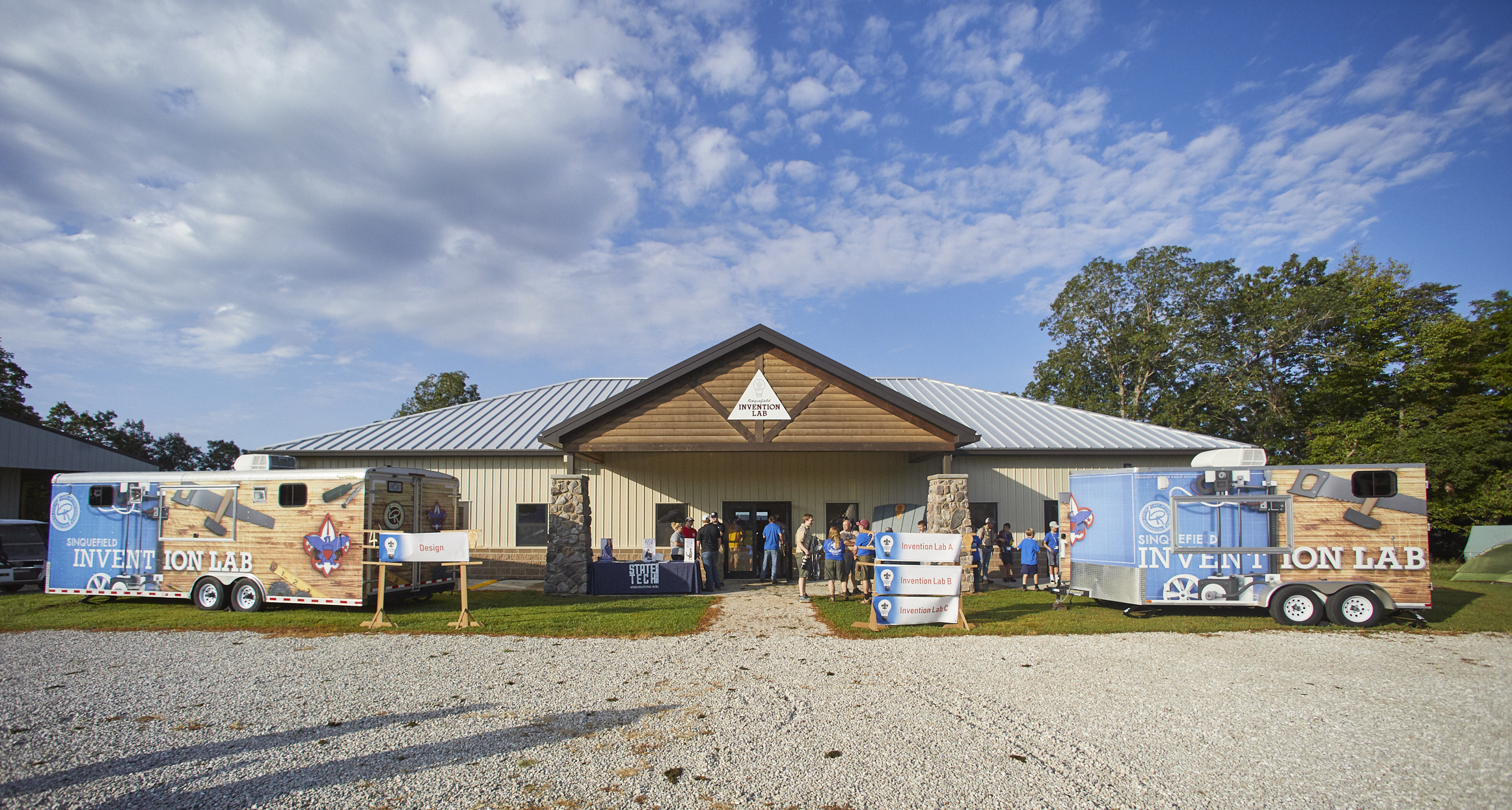 Mission
To facilitate hands on education and invention of new ideas and technologies, while utilizing problem solving skills, creativity and imagination in a team environment.
First of its Kind Facility Overlooks Lake of the Ozarks from Blufftop at Camp
Sitting on a blufftop overlooking the Lake at the 44 mile marker, this 6000 square foot facility will provide Scouts and students from across Missouri the opportunity to work with technology and become inventors and entrepreneurs for life.
The Invention Lab currently houses laptop computers, 3D printers, laser engravers, CNC routers, embroidery machines, Scan-n-Cut machines, littleBits, soldering equipment, and a program building featuring wood working tools and materials. More equipment including vinyl printers and multimedia software will be added later. In addition, the lab offers instruction on leadership, business, creativity, and sustainability. In the summer of 2019, the Sinquefield Blacksmithing and Welding Building was built, which includes forges and welding equipment.
The inspiration behind this project began in 2012, when three scouters invented Chess2Go; a chess set that can fit in your pocket. Chess2Go is now sold across the nation. Wishing to foster more innovation with fun, Scout Leader Dr. Jeanne Sinquefield sought to create a Scouting program centered around inventorship and entrepreneurship. The Invention Scouts is now that program.
"We want to help scouts, students, and adults to make their ideas come to life," says founder Dr. Sinquefield. "Becoming an inventor and an entrepreneur is so much more than just technology. It's also about understanding business, manufacturing and production, leadership, marketing, creativity, and most importantly how we can use what we learn to serve the community."
With its opening, the Great Rivers Council (GRC) becomes the first council in the Boy Scouts of America to own and operate an Invention Lab. Merit badge instruction currently includes entrepreneurship, inventing, woodwork, radio, engineering, game design, electronics, sustainability, model design and building, sculpture, and graphic arts.
The newly built Invention Lab will serve as the flagship of Invention Scouts, and will provide Cub Scouts, Boy Scouts, Venturers, Explorers, students, and adults across Missouri the opportunity to utilize the facility.
GRC is the first council to have Invention Scouts, a pilot program designed to inspire scouts to become inventors and entrepreneurs for life. It is coeducational, so young men and women ages 11-21 can join, and no prior scouting experience is required.
Drew Wood, the Invention Lab's Summer Camp Director said, "In the lab we provide the opportunity for Scouts to use equipment they may have never seen before. We give them time to use their creative juices to design and create brand new things. They are challenged through merit badge requirements and competitions."
"In schools is it popular to push for STEM, and for kids to learn those are facts. The Invention Lab is more than that; creativity and innovation will never go away. This is a timeless program which makes it super cool for Scouts" Camp Program Director Daniel Wright said.
Sustainability is another theme of The Lab. GRC used many recyclable materials for its completion. The tables are repurposed restaurant furniture. The work tables were made from wood leftover from the construction.
"We are very proud to open the Invention Lab this summer to our Scouts in camp," stated Doug Callahan, Scout Executive of GRC. "It will become a resource for local community youth as well as attract Scouts from other states to learn the business of invention."
You can learn more about Invention Scouts at InventionScouts.org.
Invention Lab Program
The Sinquefield Invention Lab offers a wide variety of program to all levels of scouting (Cub Scouts, Boy Scouts, Venturing, and Exploring) throughout the year; both summer and off-season. Please click on the following links to view our program.
Invention Campus Summer Season
For any questions about Invention Scouts or the Labs, please contact Thomas Yang at 573-449-2561 x210